Digital
Digital Experiential Journey
Burger Reborn
The Burger Evolution: From Classic to Revolutionary
In the bustling world of culinary delights, a visionary continental chef envisioned a burger experience that was unlike any other. With a passion for creating exceptional taste experiences, this chef dreamt of a burger cafe that would redefine the very essence of burgers. This dream was brought to Owl Branding Studio with the aspiration to transform it into a tangible brand that would resonate with the dynamic energy of burger enthusiasts.
Brand Purpose
Brand Strategy & Positioning
Brand Portfolio & Architecture
Brand Identity & Imagery
Brand Style Guidelines
Logo Creation
Packaging & Label
Messaging & Tone-of-Voice
Brand Concepts & Communications
Brand Tagline
Experiential Designs
Website & E-commerce
Retail Branding & Merchandise
OOH – Signage & Billboard
Marketing Collateral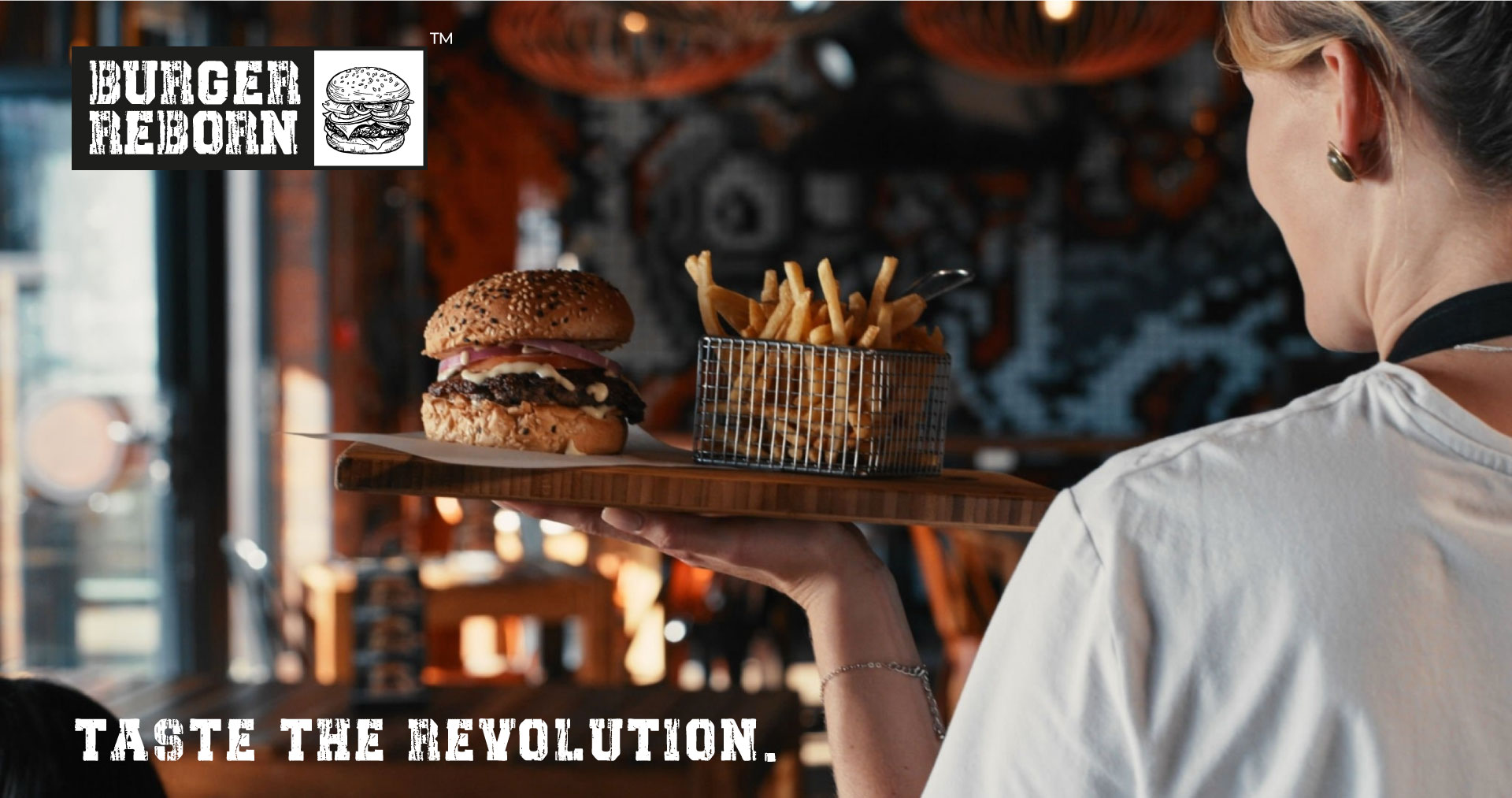 Brand Philosophy
Burger Reborn isn't just another name in the vast landscape of fast-food chains. It stands as a symbol of culinary innovation. Every burger crafted here is a transformative experience, blending traditional flavors with a modern twist. Each bite is not just a taste but a journey, promising something new, something extraordinary. In a world saturated with burger joints, Burger Reborn emerges as a culinary revolution, ensuring that every burger is consumed and gives an unparalleled experience.

Tagline
"Taste The Revolution" – This succinct and impactful tagline captures the essence of Burger Reborn's mission. It serves as a rallying cry, urging burger enthusiasts to experience the transformative taste that Burger Reborn promises.

Naming the Revolution
The journey began with the birth of a name that would encapsulate the brand's mission. "Burger Reborn" was more than just a name; it was a statement. It signified a culinary rebirth, a fresh take on a classic favorite, redefining the burger experience for the modern era.

Logo & Packaging Concept
Drawing from the brand's revolutionary ethos, our team at Owl Branding Studio designed a logo that seamlessly integrated symbols of rebirth and transformation. The reverse font, encased in a stark black rectangular box, juxtaposed with the line sketch of a burger, painted a vivid visual narrative of a burger's rebirth. Crafted in recycled khaki paper with minimalist black printing, the packaging exuded sophistication. The singular use of color to highlight the tantalizing burger ensured that the branding and merchandising resonated deeply with the essence of "Reborn."

Web Design & E-commerce
Our team designed a user-friendly and visually appealing website to further the brand's reach and provide a seamless experience for burger lovers. The platform encapsulates the brand's ethos, ensuring a smooth browsing and shopping experience while aligning with the brand's revolutionary identity.

Brand Communications
In partnership with the Brand Culture Network, we crafted a compelling brand narrative for Burger Reborn that goes beyond the ordinary. Our communication strategy delves into the artistry behind each burger's creation. From the meticulous selection of fresh ingredients to the masterful assembly of flavors, we showcase the brand's dedication to culinary innovation. Through high-end indulgence imagery, viewers are taken on a journey of the burger's transformation – from raw ingredients to a gourmet masterpiece. The visuals are further enriched with scenes of individuals savoring each bite, their expressions capturing the sheer delight of tasting a revolution. The entire narrative is set against a backdrop of sophistication and passion, reinforcing Burger Reborn's commitment to redefining the burger experience. This immersive communication approach ensures that every interaction with the brand resonates with its ethos of revolutionizing taste and delivering an unparalleled burger experience.