Digital
Digital Experiential Journey
Harlig
Crafting Moments of Pure Indulgence
From the lush pastures of Sweden, a country renowned for its dairy products and rich agricultural heritage, a second-generation family of leading agriculturalists and farmers envisioned a brand evolution. Instead of supplying milk and yogurt to the food industry, they aspired to carve out their niche in the premium ice cream and yogurt market.
With a legacy of supplying high-quality dairy products and a passion for innovation, they approached Owl Studio. Our mandate was to sculpt their vision into reality, crafting a holistic brand narrative encompassing everything to redefine the luxury of ice creams and yogurt, blending Swedish tradition with global flavor.
Brand Purpose
Brand Strategy & Positioning
Brand Portfolio & Architecture
Brand Identity & Imagery
Brand Style Guidelines
Logo Creation
Packaging & Label
Messaging & Tone-of-Voice
Brand Concepts & Communications
Brand Tagline
Experiential Designs
Website & E-commerce
Retail Branding & Merchandise
OOH – Signage & Billboard
Marketing Collateral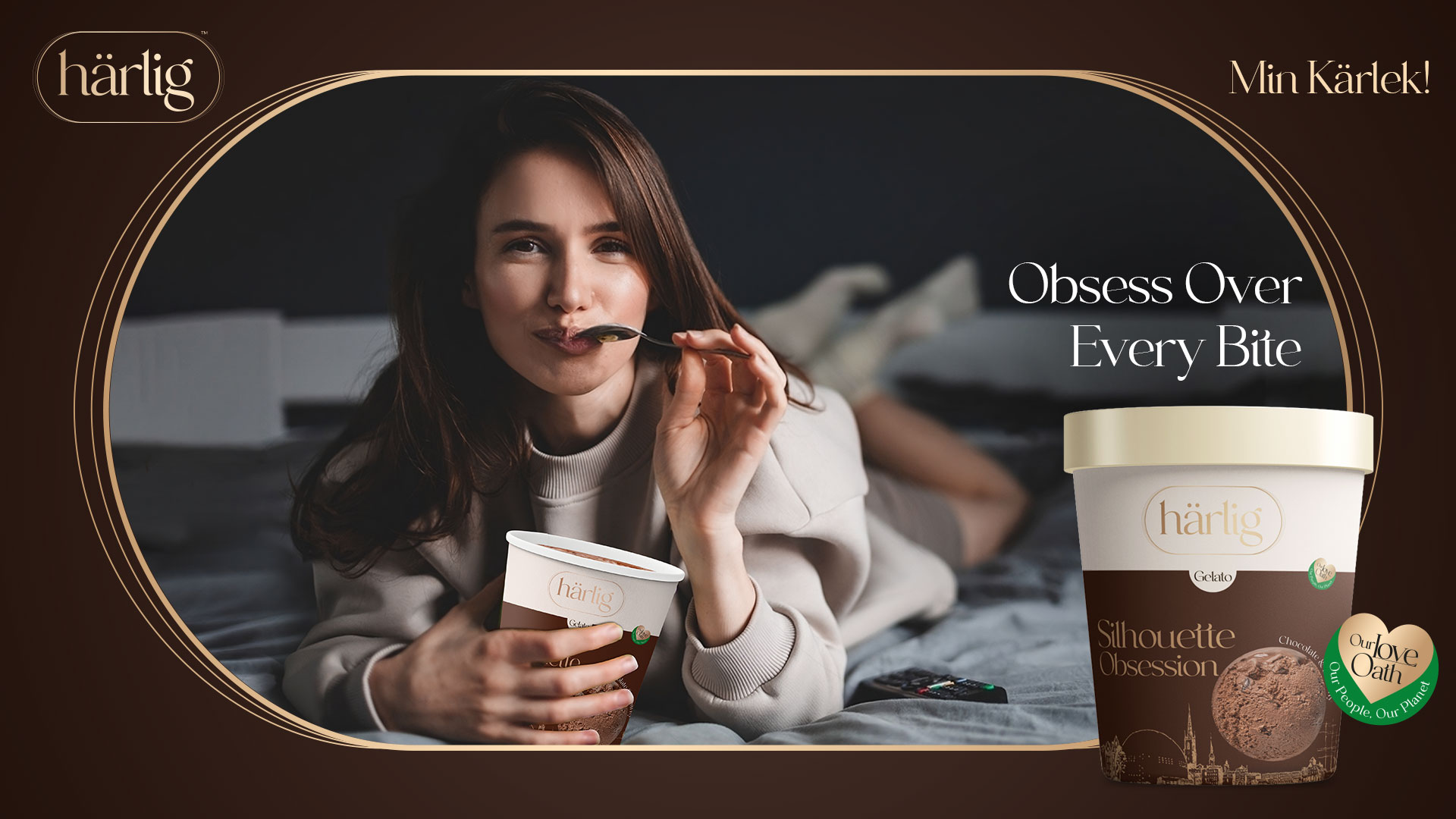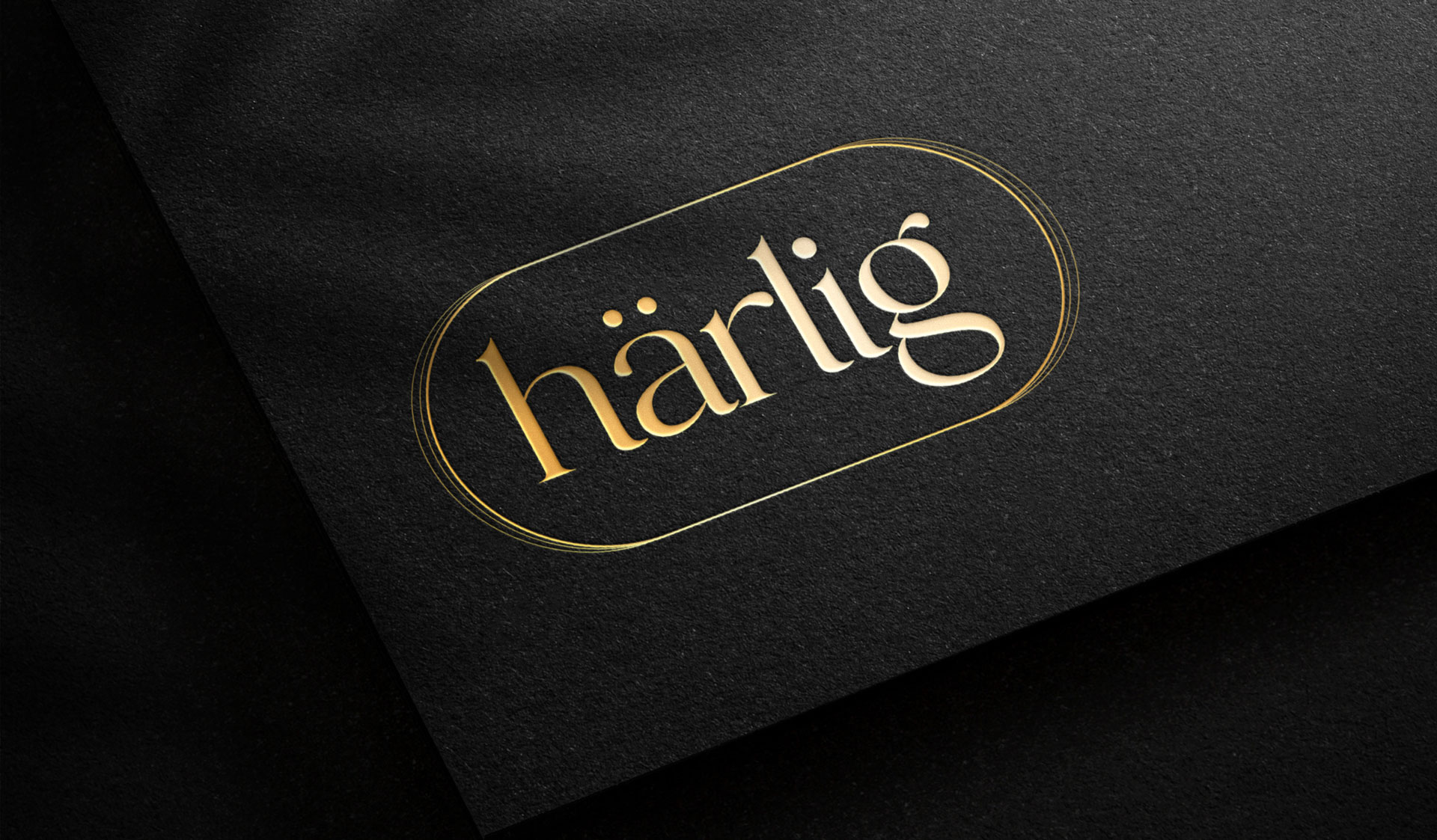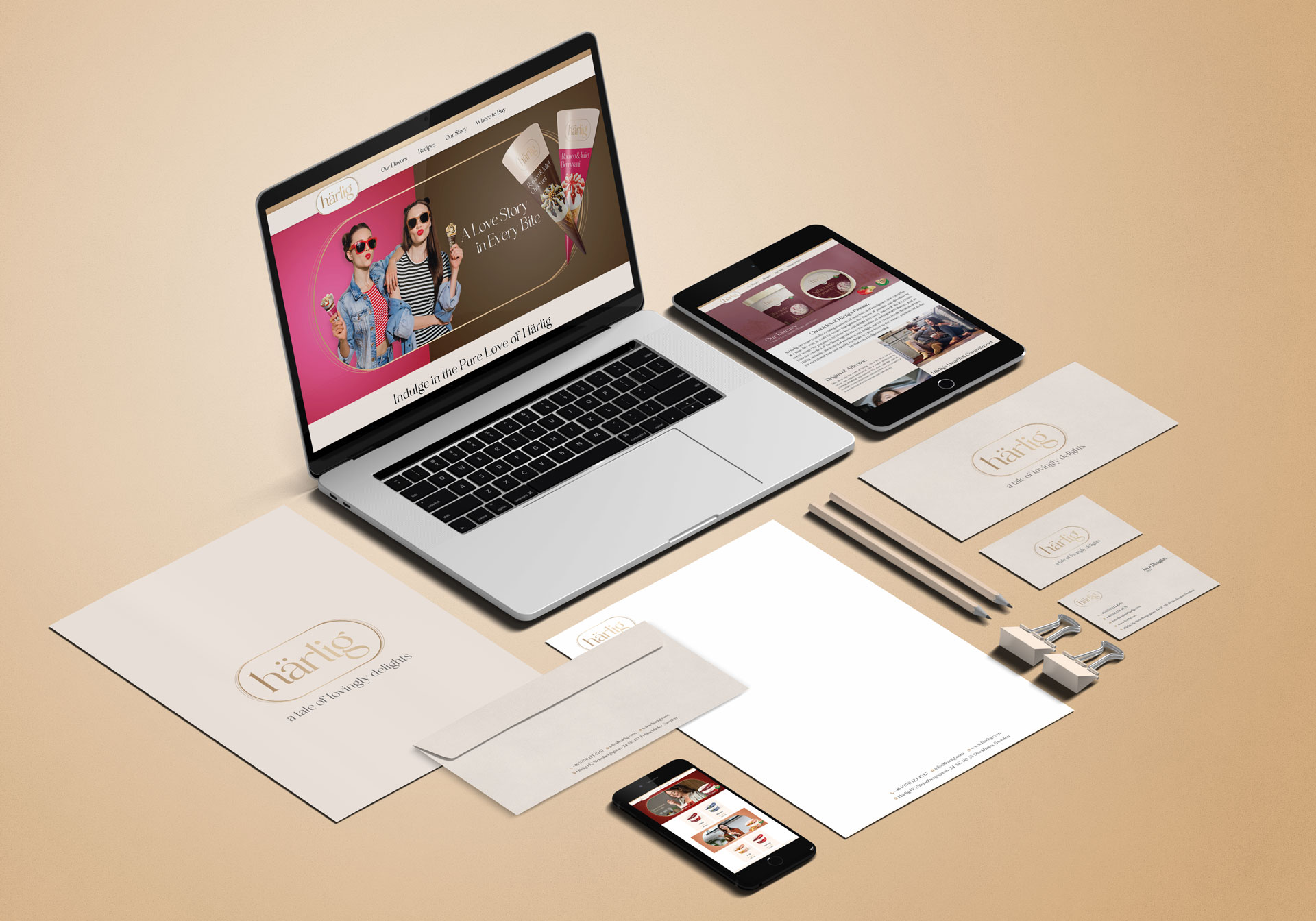 Brand Philosophy
Härlig encapsulates the sensation of loveliness and delight, standing as a declaration of love for exceptional taste and quality. It promises a sensory experience that's unparalleled, filled with moments of joy and delight.
Brand Naming
"Harlig" is derived from the Swedish word for "lovely" or "delightful." Entrusted with the task of naming, Owl Studio chose this name to encapsulate the brand's commitment to delivering delightful experiences and products that bring joy to its customers. The name evokes feelings of warmth, love, and the joy of savoring life's delightful moments.

Brand Logo & Identity
Owl Studio's design team meticulously crafted the Härlig brand logo, merging Scandinavian design aesthetics with the creamy richness of ice cream. Positioned dominantly, this logo radiates luxury and sophistication, capturing the essence of Härlig.

Matte Gold Logo: The matte gold logo, positioned prominently, exudes luxury and sophistication.Positioned dominantly, this logo radiates luxury and sophistication, capturing the essence of Härlig.
Unique Casing & Font Styling: The unique casing around "härlig" showcases the brand's commitment to quality and elegance with lowercase "härlig,". This design element adds a touch of distinction, promising an experience that's as delightful as the brand's visual identity.
Brand Essence
Pure Indulgence.

Brand Usage Guide
To ensure Härlig's brand identity remains consistent and impactful across all touchpoints, Owl Studio meticulously developed a comprehensive Brand Usage Guide. This guide outlines the precise specifications for logo placement, typography, color palettes, imagery, and other brand elements. It serves as a blueprint for all stakeholders, ensuring that Härlig's brand essence is communicated uniformly in digital platforms, retail environments, or marketing collateral.

Brand Imagery
Härlig's brand imagery is a visual symphony of indulgence, authenticity, and experience. Each visual captures the brand's luxury and quality, from creamy ice cream scoops to genuine ingredients. Inspired by joyful moments, a celebration of relations, and the cherished "me-time" moments of self-indulgence, the unique flavor names enrich the brand's story, inviting viewers into Härlig's world of pure delight and indulgence.

Design Philosophy
Owl Studio's design philosophy for Härlig's packaging was rooted in minimalist Scandinavian design, emphasizing purity, luxury, and the brand's commitment to quality. Every design element was carefully chosen to provide consumers with a visual and sensory experience that mirrors the indulgence within.

Visual Storytelling Design Elements
Top White Panel Strip: This strip, running across the top of the packaging, serves as a backdrop for the "Härlig" logo in a consistent dull matte gold finish, adding a touch of sophistication and emphasizing the brand's minimalist design approach.
Flavor Color Representation: The lower, more significant portion of the packaging showcases a solid color indicative of the flavor, complemented by a visual of the main ingredient (e.g., a cocoa bean for Chocolate Holandes, a mint leaf for Alpine Mint, etc.). This color-coding system allows consumers to easily identify their preferred flavors.
Stylized Font: The flavor name is presented in a stylized lowercase font, positioned at the center of the packaging. This modern typography, in white color with a thick outline of the flavor color, complements the brand's contemporary image and ensures prominence.
Ice Cream Visualization: On the right bottom of the packaging, there's a visual representation of a single scoop of ice cream, bar, or cone, giving consumers a tantalizing preview of the indulgence inside.
Special Edition Imagery: For the special edition range, a golden line sketch of Stockholm's city skyline is subtly incorporated into the background. This touch not only adds a layer of sophistication but also pays homage to the brand's Swedish roots.
Brand Sustainability Approach : Harlig's Love Oath
"At Härlig, our love for the planet is as deep as our passion for ice cream. We are committed to sustainable practices, ensuring that every scoop not only delights the senses but also respects our environment.
Pure Loved Base: Discover the pristine foundation of Grade A milk and cream that makes Härlig ice cream a masterpiece of love and quality.
Nature's Love Palette: Explore our commitment to handpicking the finest natural ingredients, creating a spectrum of unforgettable flavors.
Sustainability Love Symphony: Learn about our dedication to sustainable sourcing and local partnerships, celebrating a harmonious blend of love for ice cream, Mother Earth, and our community.
Retail Presence Branding
Owl Studio crafted Härlig's exclusive retail store branding, blending Scandinavian design with luxury. Every element, from signage to interiors, immerses visitors in Härlig's world of indulgence, echoing its Swedish roots and global flavor inspirations.

Brand Communications
The Härlig brand story is one of pure indulgence. Visuals capture the meticulous process of crafting the perfect scoop of ice cream, from the selection of the finest ingredients to the infusion of authentic flavors. Collaborating with the formidable Brand Culture Network, we refined Härlig's brand communications and culture, ensuring a seamless alignment with its core purpose and promise. This synergistic partnership enriched the brand's narrative, deepening its connection with the target audience and solidifying its position in the market.
Together, we meticulously crafted a series of evocative brand communications that deeply resonate with Härlig's target demographic. The journey from the ice cream's creation to the moment it's enjoyed by discerning consumers is beautifully portrayed, emphasizing the brand's commitment to quality, luxury, and the celebration of life's delightful moments.Campaigns such as "Harlig- A Tale of Lovingly Delights" for the range, "Minty Magic In Every Bite" for Alpine Mint, "Obsess Over Every Bite" for Silhouette Range, "A Love Story in Every Bite" for Romeo & Juliet Cone, and "Three Layers of Chocolaty Charm" for the Bar have been tailored to captivate our target audience.
These narratives evoke sensations of indulgence, luxury, and sheer delight and weave the compelling tale of cherishing life's delightful moments with Härlig Premium Ice Cream.

Online Presence
Härlig's digital platform, designed by Owl Studio, offers an immersive experience, taking visitors on a journey through the world of Härlig, from the rich traditions of Sweden to the innovative flavors inspired by global tastes. In the retail space, Härlig ensures its presence in premium outlets, making sure that consumers always have access to their favorite Härlig moments.
Härlig's digital platform offers an immersive experience, taking visitors on a journey through the world of Härlig, from the rich traditions of Sweden to the innovative flavors inspired by global tastes. With its user-friendly interface, the website showcases a diverse range of products, from the creamy richness of ice creams to the refreshing tang of yogurts, allowing visitors to savor the flavors even before they place an order.