CREATIVE
360º Integrated Marketing Campaign
Life Karay Easy
Let's Keep It Easy

Brand Strategy & Branding
Brand Nomenclature
Brand Identity & Packaging
Brand Positioning Statement
Brand ID & Seed
Communication Strategy

Creative
Creative Platform
Ideation & Storytelling
TV Concept & Storyboard
Copy & Content Writing
Key Visuals
Print Ads & OOH
Production Management
Production Supervision
Still Photography

Brief
Find the simplest and most engaging way to communicate the easy-to-use top-down format of the new National 'Squeeze Bottle' tomato ketchup.
Insight
Kids can't resist playing games, and they love playing with their food. Mother, however, would never put glass bottles in their hands for fear of breakage.
Challenge
Pre-dominantly, the communication of ketchup had always focused on adults and via point of purchase communication in stores, supermarkets, etc. Other ketchup manufacturers also entered the market using the 'simple, easy and taste' space.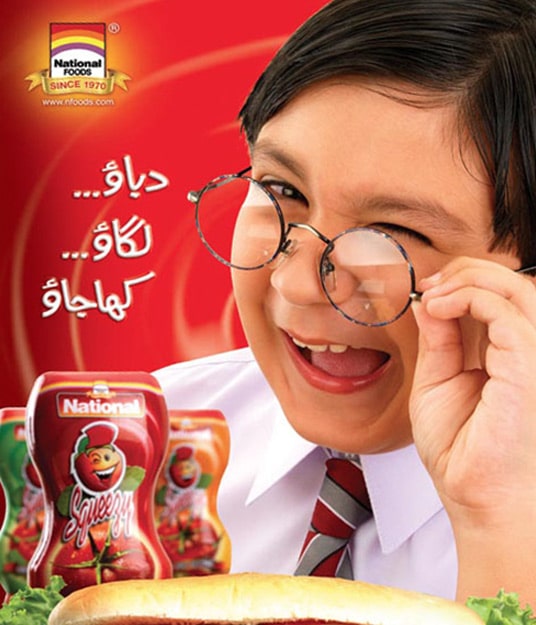 Creative Execution
To illustrate the simplicity and ease of use of National Tomato Ketchup's top bottle, we created an interactive and engaging character called 'Squeezy.'
The campaign showcased a fun and novel approach toward targeting the highest volume of users – kids, which enticed the audience to interact with the character, and the ads were printed upside down in magazines and outdoors. The interactive ads clearly showed the benefit of the easy-to-use National's Squeezy Tomato Ketchups top-down bottle.
Results
The campaign caught the attention of kids and became an interactive, fun product demonstration. The simple and engaging format helped the readers understand the product benefit easily.