Digital
Digital Experiential Journey
She Essentials
Painting a Cosmetic Canvas for a Women-Empowering Brand
Our journey commenced when a leading chain of fashion retail stores approached us to launch a cosmetic brand. Entrusted with the task of naming to crafting a compelling narrative, we aimed to create a brand that resonates with the ethos of women's empowerment, self-expression, and the celebration of inherent beauty.

Brand Purpose
Brand Strategy & Positioning
Brand Portfolio & Architecture
Brand Identity & Imagery
Brand Style Guidelines
Logo Creation
Packaging & Label
Messaging & Tone-of-Voice
Brand Concepts & Communications
Brand Tagline
Experiential Designs
Website & E-commerce
Retail Branding & Merchandise
OOH – Signage & Billboard
Marketing Collateral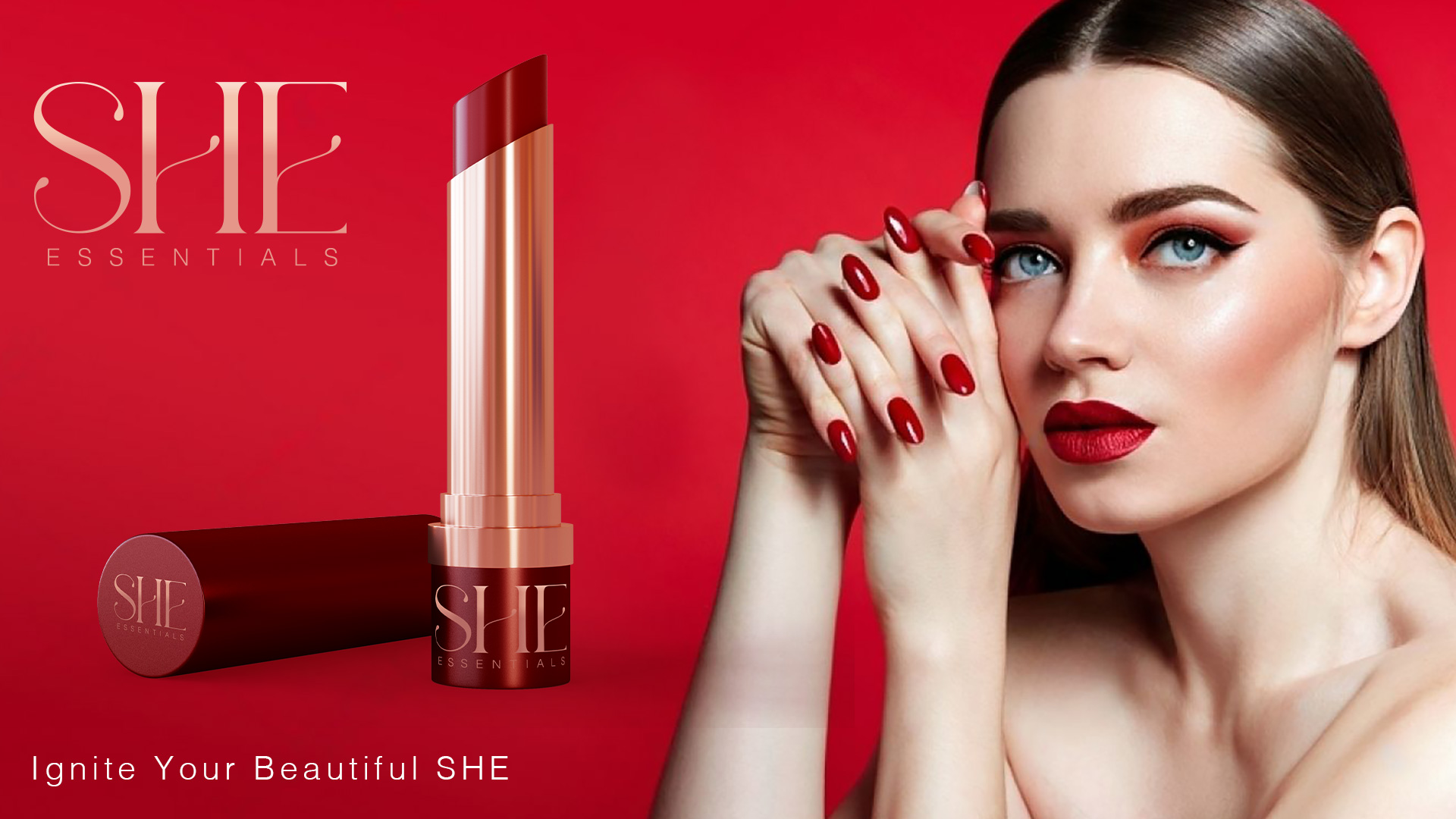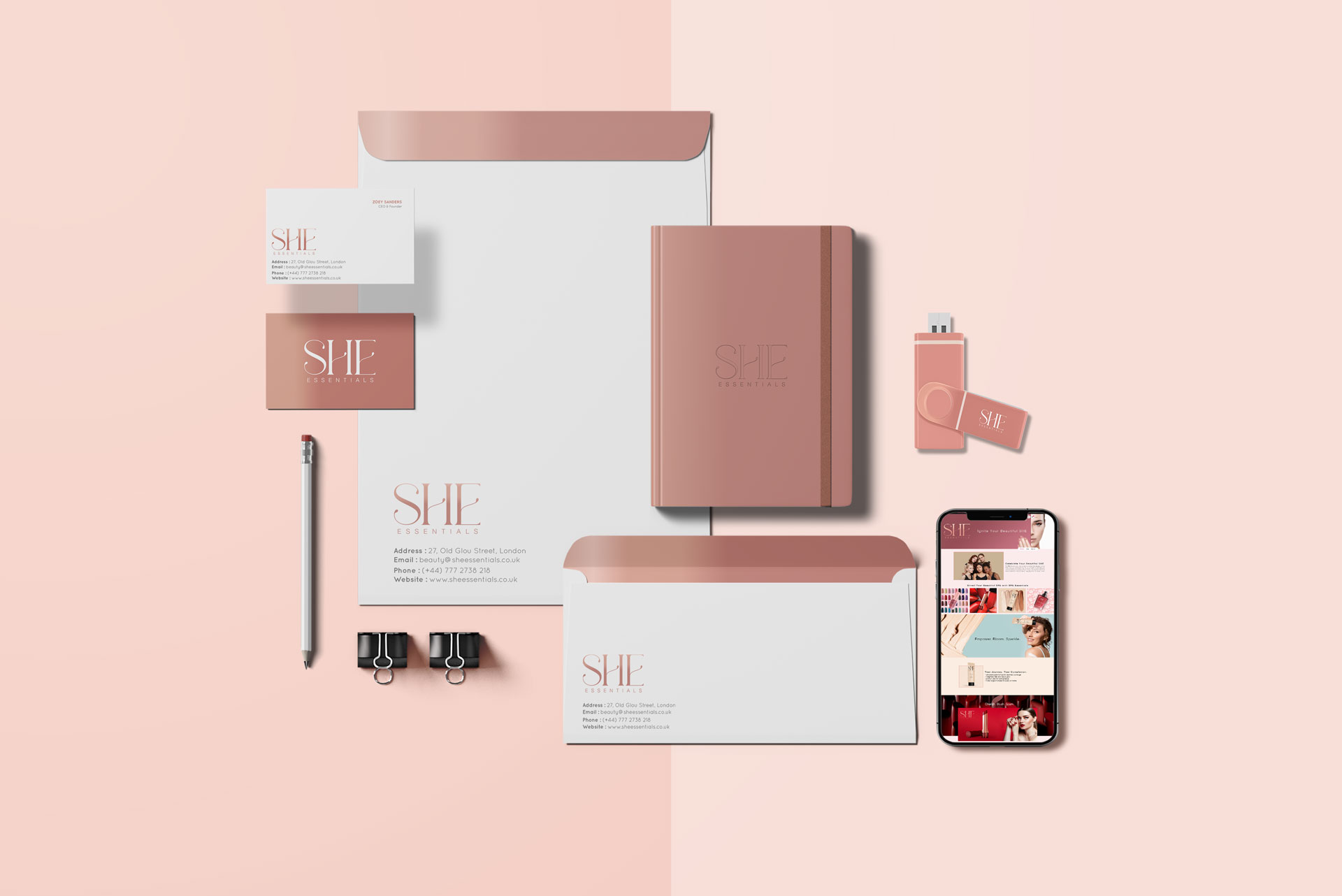 Brand Philosophy
The brand naming process was a meticulous endeavor to encapsulate the essence of the brand's core values. After thorough deliberation and market research, we proposed the name "SHE Essentials," which perfectly encapsulates the brand's ethos of celebrating and empowering the feminine spirit.
Brand Philosophy
At SHE Essentials, the philosophy is to ignite the inherent beauty within every woman, empowering her to express her individuality and follow her dreams confidently. The brand revolves around women's empowerment, inspiring them to embrace their authentic selves while staying true to their roots.

Logo Concept
The logo for SHE Essentials was designed to embody the essence of feminine elegance and empowerment. The Craft Style Lettering for "SHE" in Caps, with "Essentials" written below it, was chosen to reflect a modern, elegant, and confident brand. The use of rose gold as the color scheme symbolizes the contemporary woman, aligning with the brand's ethos of enhancing natural beauty and empowering self-expression through its range of cosmetics and makeup products.

Packaging Design Concepts
In alignment with Owl's philosophy of creating soulful designs, we meticulously crafted the packaging designs for SHE Essentials' products, including lipstick, nail polish, foundation, perfume, and shades. The design approach was modern, clean, and minimalist, embodying an upbeat aesthetic that resonates with the brand's ethos of empowering women to express their individuality confidently. This thoughtful packaging design enhances the brand's shelf appeal and creates a memorable unboxing experience for the consumers, further solidifying the brand's position in the market as a purveyor of high-quality, empowering beauty solutions.

Brand Styling Guide
The Brand Styling Guide for SHE Essentials was meticulously crafted to ensure a cohesive and resonant brand presentation across all touchpoints. This guide serves as the cornerstone for all brand-related endeavors, ensuring consistency and alignment with the brand's core philosophy of empowering women to express their individuality confidently. We have derived overall branding from retail branding, in-store merchandising, outdoor advertising (OOH), vehicle and salon branding, marketing collaterals, brand ambassador kits, promotional items, digital and social media campaigns, vent branding, and point-of-sale materials. This comprehensive approach ensures that the brand's ethos is seamlessly communicated through every facet, creating a solid and recognizable brand identity that resonates with the target audience.

Brand Tagline
"Ignite Your Beautiful SHE" – This tagline encapsulates the essence of SHE Essentials, urging women to embrace and celebrate their inherent beauty, empowering them to express their individuality and follow their dreams confidently.

Brand Imagery
The brand imagery for SHE Essentials was meticulously crafted to resonate with the brand's ethos of women's empowerment and self-expression. The visuals depict women from various walks of life confidently embracing and celebrating their authentic selves, embodying the brand's mission of empowering self-expression and self-love.

Web Design & Digital Presence
In collaboration with our digital amplification partner, Media Idee, we crafted an online realm for SHE Essentials that mirrors its core philosophy of women's empowerment and self-expression. The website design is more than just a digital platform; it's an interactive journey that guides users through the empowering ethos of SHE Essentials. Every element, from the intuitive design to the empowering digital campaigns, has been meticulously designed to resonate with the brand's tagline: "Ignite Your Beautiful SHE," providing a platform for women to shine confidently and inspire a world where beauty, confidence, and authenticity are celebrated.

Brand Concepts & Communications
Working in collaboration with the powerhouse Brand Culture Network, we drove the brand communications and culture, aligning it perfectly with its philosophy. This collaboration enriched the brand's narrative, ensuring a deeper connection with the target audience and a more robust positioning in the market. Together, we developed a series of captivating brand communications meticulously curated to resonate with the brand's target audience, evoking a sense of empowerment, self-expression, and the celebration of inherent beauty.