Creative
Creative Transformation & Perception Reshaping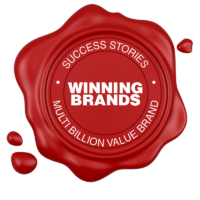 Dabang Hai Mera Yaar
A Powerful Ideal Companion
How do you compete against cheaper imports to build up your brand in the most challenging segment of Rural Pakistan and do it effectively?
That was the challenge faced by Al-Ghazi, New Holland Tractors, which for years had ruled the roost as one of the bestselling tractors in Pakistan but had slowly been losing market shares and growth to its cheaper imported competitors.
Brand Strategy
Brand Positioning Statement
Brand ID & Seed
Communication Strategy

Creative
Creative Platform
Ideation & Storytelling
TV Concept & Storyboard
Copy & Content Writing
Key Visuals
Print Ads & OOH
Production Management
Ad Film Production
On-Boarding Filmmaking Teams
Director Board & Treatment Note
Production Design & Plan
Celebrity & Talent Management
Singer & Music
Still Photography
Shoot & Post Production
A POWERFUL IDEAL COMPANION
Agency took upon this challenge to bring its leadership profile back to the price-conscious rural market. Part of Al Futtaim, UAE group, the brand needed a modern outlook and was required to communicate the values of durability, growth, flexibility, and most importantly, long-term savings promised by its machines.
When it comes to brand strategy & storytelling, humanizing the brand and building a solid relationship by positioning Al-Ghazi Tractor as an ideal powerful companion/friend of farmers who is always there to help them in all needs from agriculture cultivation to transportation and brings the real prosperity in their life.
Considering the target audience from rural Pakistan, we unearthed the insight that a 'FILMI' Culture showing our product as the Hero would resonate with the audience, genuinely making the product and brand stand out. Roping in the No. 1 legend film star of Punjabi Films (the core target audience), Mustafa Qureshi was chosen as the brand ambassador to promote the product's efficacy.
Shot in rural Pakistan, capturing the rural lifestyle, a mix of narration & jingle based storytelling endorsing Al-Ghazi Tractor as "Dubang Hai Mera Yaar" (My Friend / Companion is so Powerful) by Mustafa Qureshi to build a captivating story of inspiring imagery around the brand and this was the first-ever communications of any tractor brand in the industry.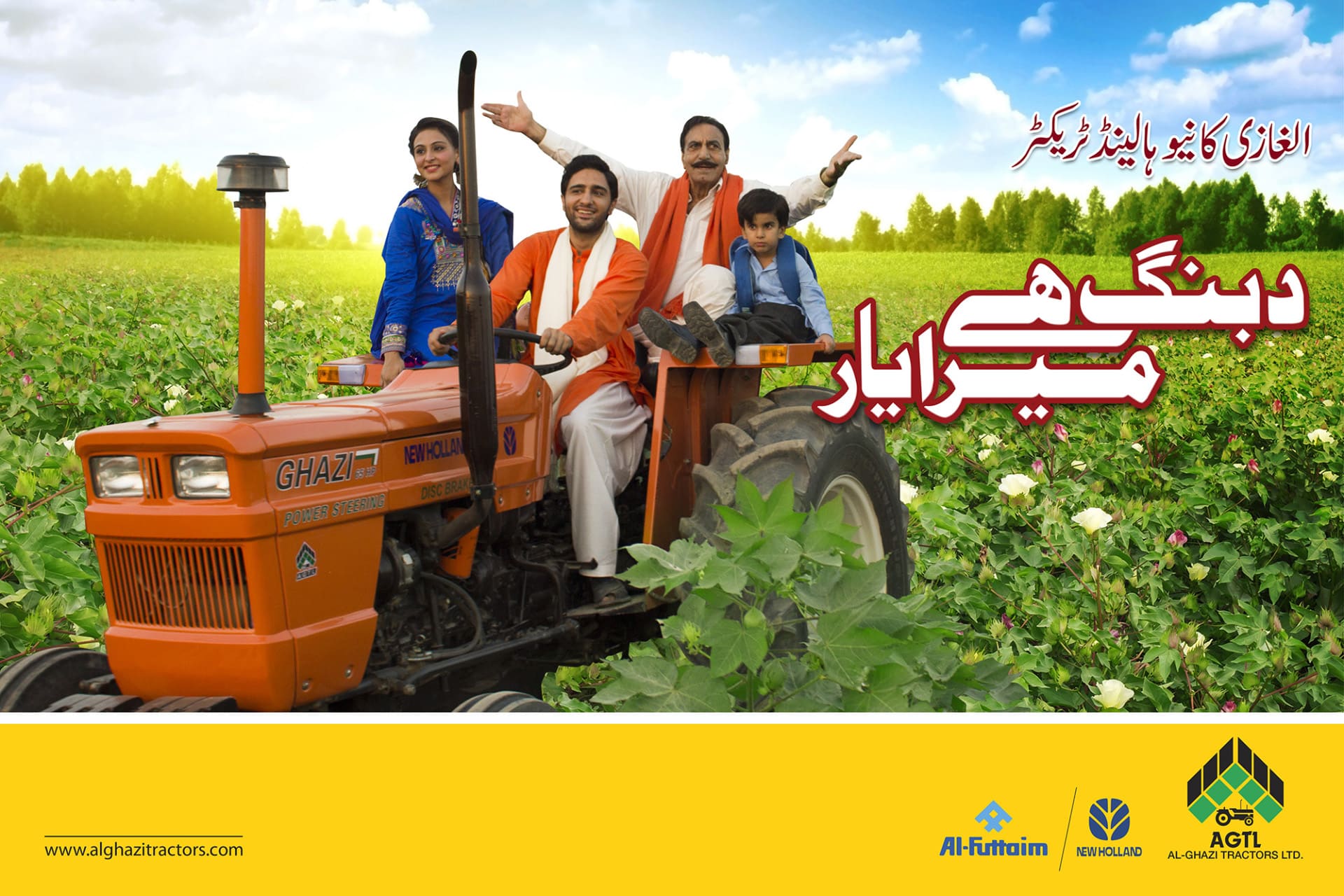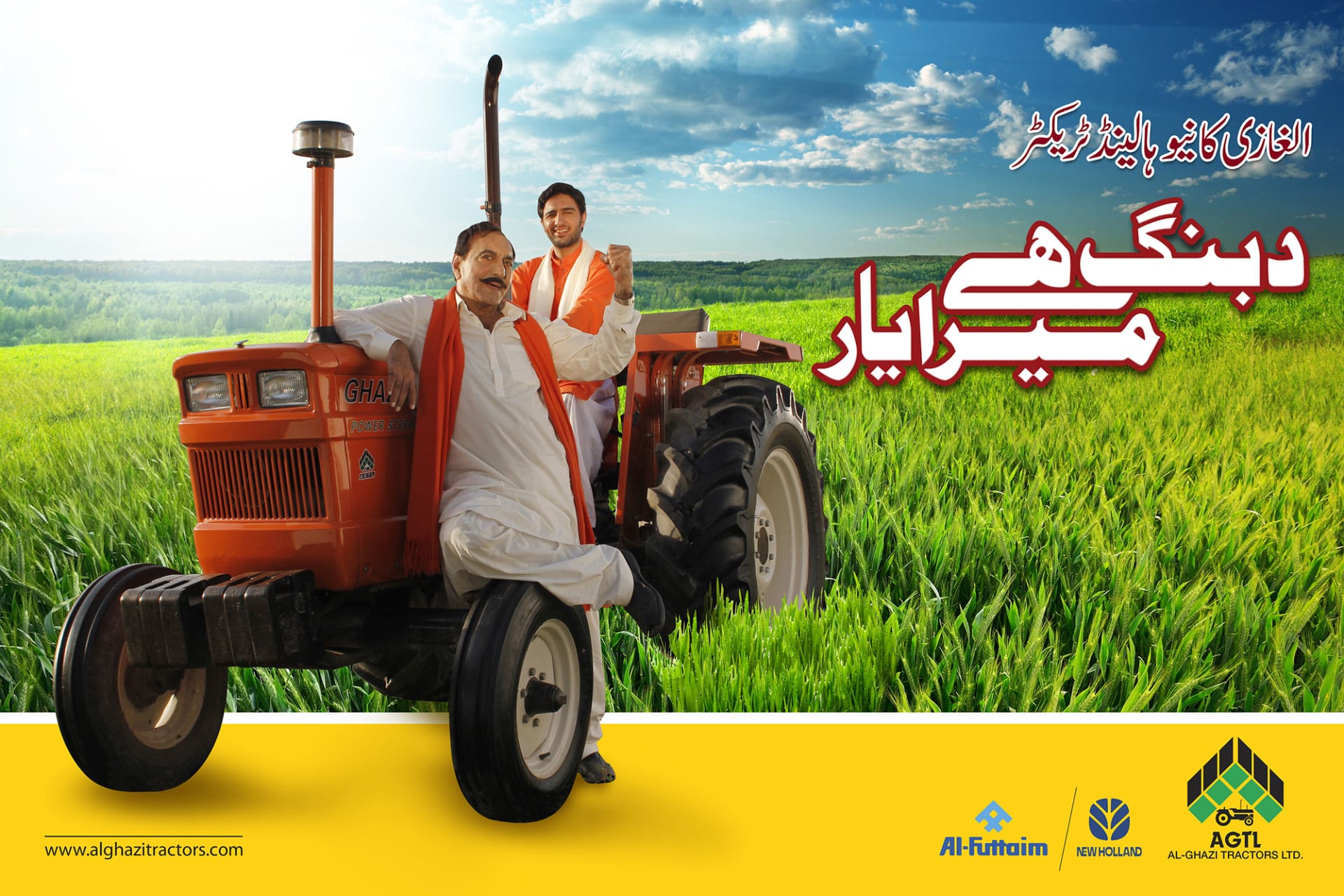 Al-Ghazi Tractor, truly, propelling it back firmly into the leading & best-selling brand and posting a massive 62% increase in profits during 2017 besides achieving the highest ever sales in the history of AGTL in the last 35 years.

AGTL - NEW HOLLAND AL-FUTTAIM GROUP
ACTIVATIONS & EVENTS
Road Shows
60 Towns
Sindh, Punjab & KPK
Rural Experiential Activation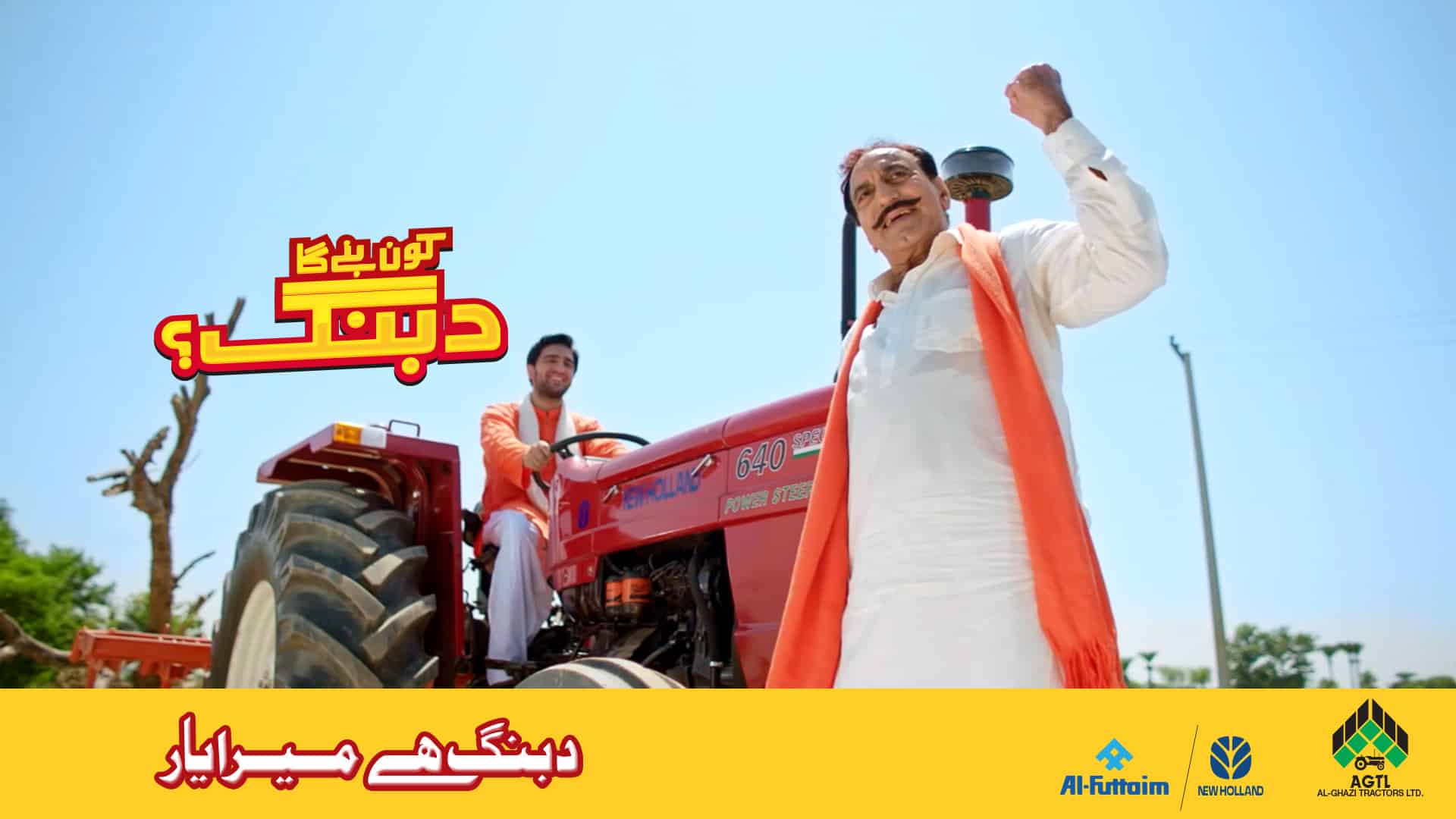 AGTL - NEW HOLLAND AL-FUTTAIM GROUP
ACTIVATIONS & EVENTS
Road Shows
60 Towns
Sindh, Punjab & KPK
RURAL EXPERIENTIAL ACTIVATION
ACTIVATION OBJECTIVE
The core objective of our activations was to create brand experiential and awareness among farmers, tractors mechanics and landlords and educate them about the new Dabang Tractor in rural areas and semi urban towns to highlight its special features.
Enhance brand image and communicate the core essence of the brand to motivate potential users to do a test trial and eventually buy our Dabang Tractors.
Convince farmers that Dabung Tractor is an ideal companion, a high quality tractor, designed to meet expectations in a cost effective manner.
Bring communication to life "Dabang Hai Mera Yaar" through airing of Al-Ghazi Tractor Thematic & Testimonial series of TVCs to built the brand imagery & brand purpose among TA.
Reaching out 60 Towns in Rural & Semi Urban Towns of Sindh, Punjab & KPK.
Strategy & Ideation
Activation Strategy
Activation Platform
Activation Ideation

On-Ground Activation
Planning & Execution
Supervision & Reporting
Consumer Briefing & Engagement
Show Invitation & Badging
Towns & Venue Permissions
Town & Shop Merchandising
Venue & Vehicles Branding
Transportation & Food
Technology
KBC Style Quiz Software Development
Equipment's & Hardware Management

Creative & Design
Activation Theme
KBC Style Quiz
3D Float & Stage Design
Float, Van & Stall Branding
Copy & Content
POS & Merchandising
Collateral Material
Sales Team Kit
Interactive Consumer Shows
Show Content & Segments
Show Team Management
Show Host & Music Band Management
Audience & Participants Management
Stage & Stall Management
Venue Branding Management
Briefing & Training Sessions
Activation Team
Brand Ambassadors
Host & IT Quiz Team
Dealers & Sales Teams
Logistic Management
Float & Stall Fabrication
Branding Placements & Installation
Music, Sound & Lights
Seating & Decoration
Team Boarding & Lodging
Giveaways & Gifts Management
Transportation & Generator
Refreshment & Lunch
Security & Protocol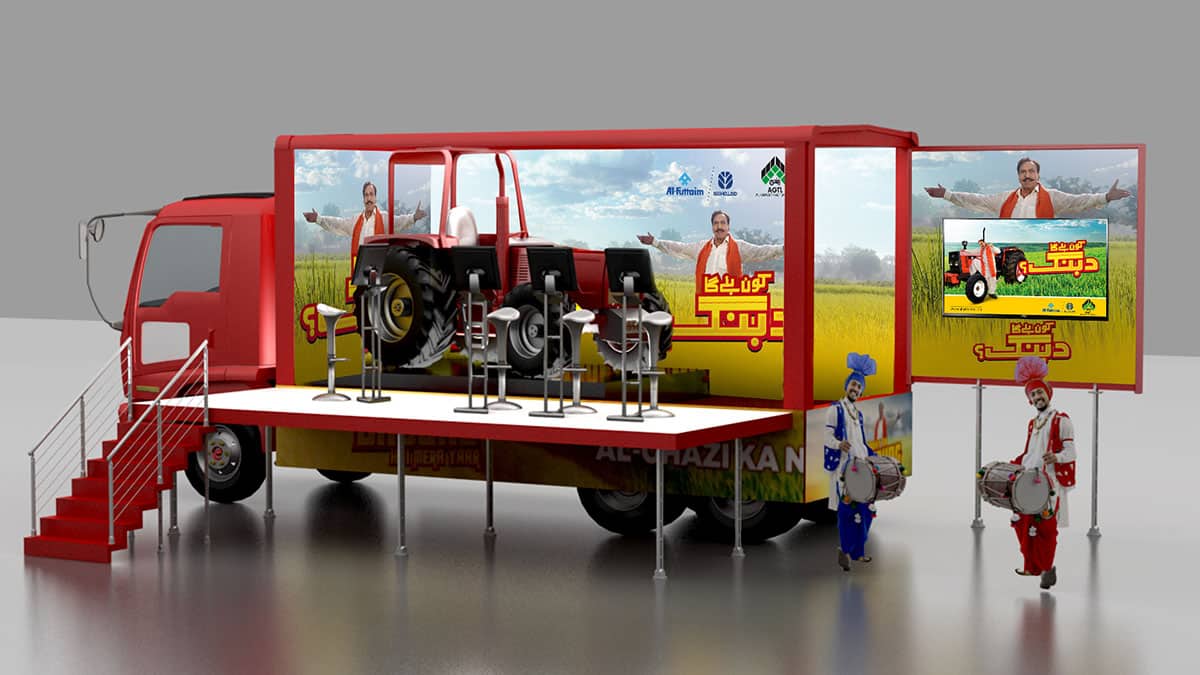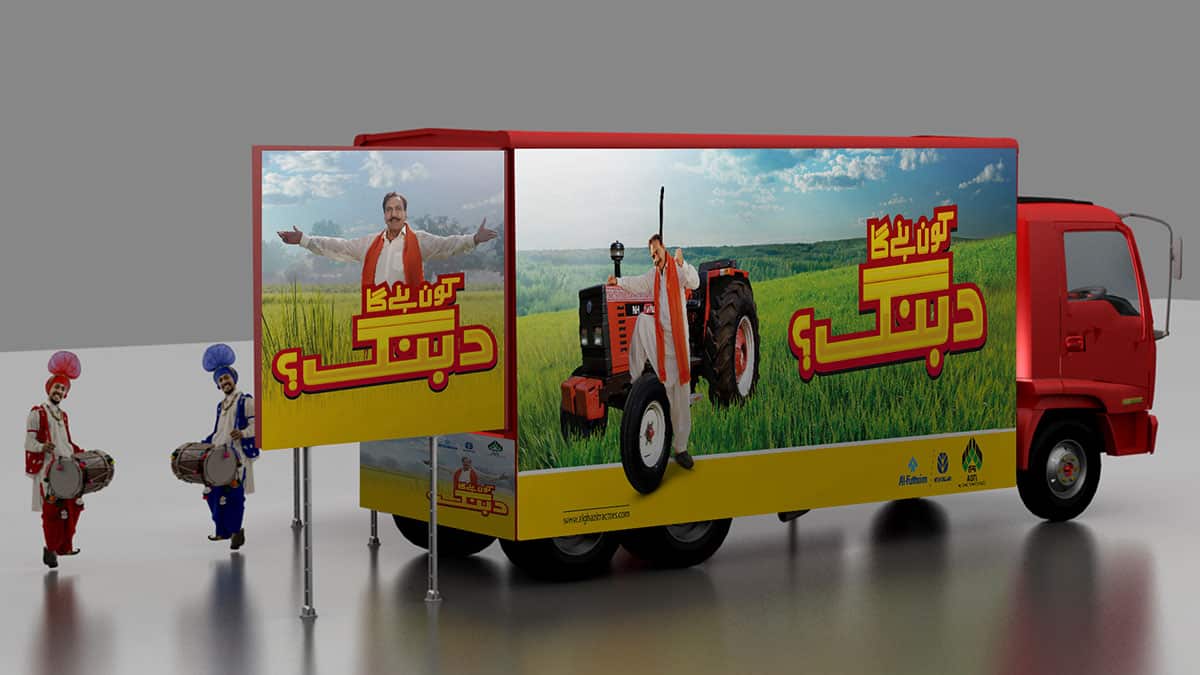 IDEAL COMPANION FOR BETTER FUTURE
Brand Capsule:
Experiential Ideation:

Kon Banay Ga Dabung Road Shows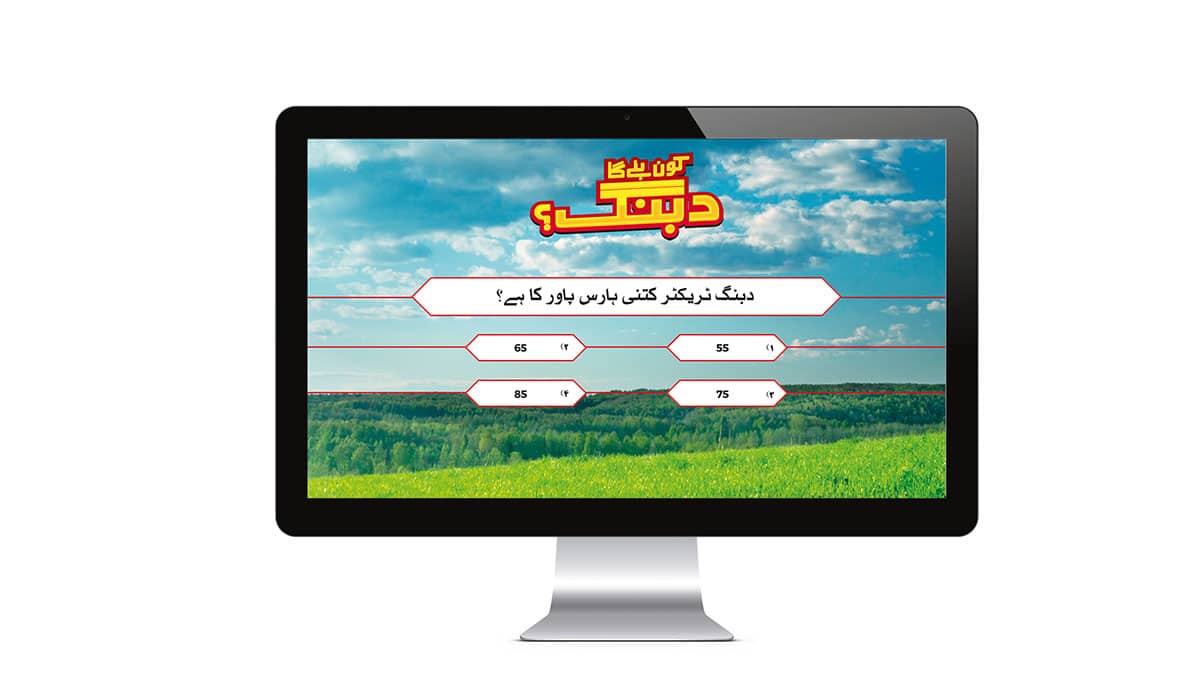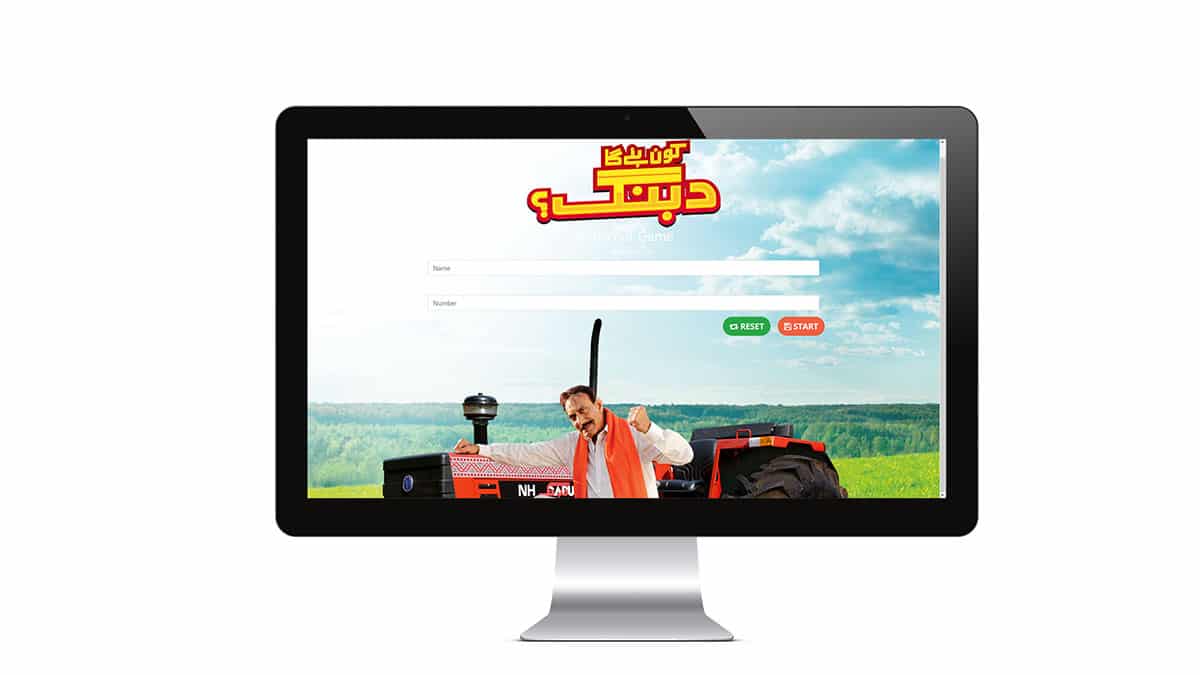 Kon Banay Ga Dabung Quiz Software
Special software developed for "Kon Banay Ga Dabung" on Quiz Format, where random questions thrown by the computer to the participants from the data base and multiple choices for answers will be given.
Quiz questions are from agricultural & cultivations backgrounds, Al-Ghazi Dabung Tractor Key Features and the imagery communications of master brand Al-Ghazi Tractor by New Holland.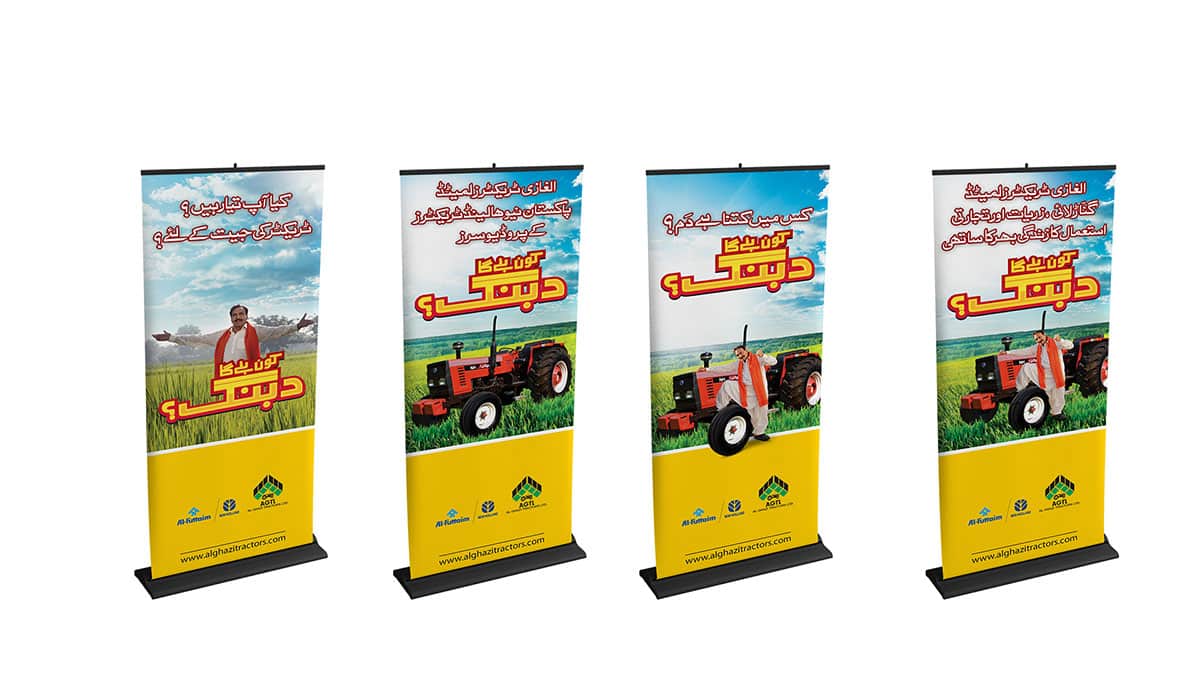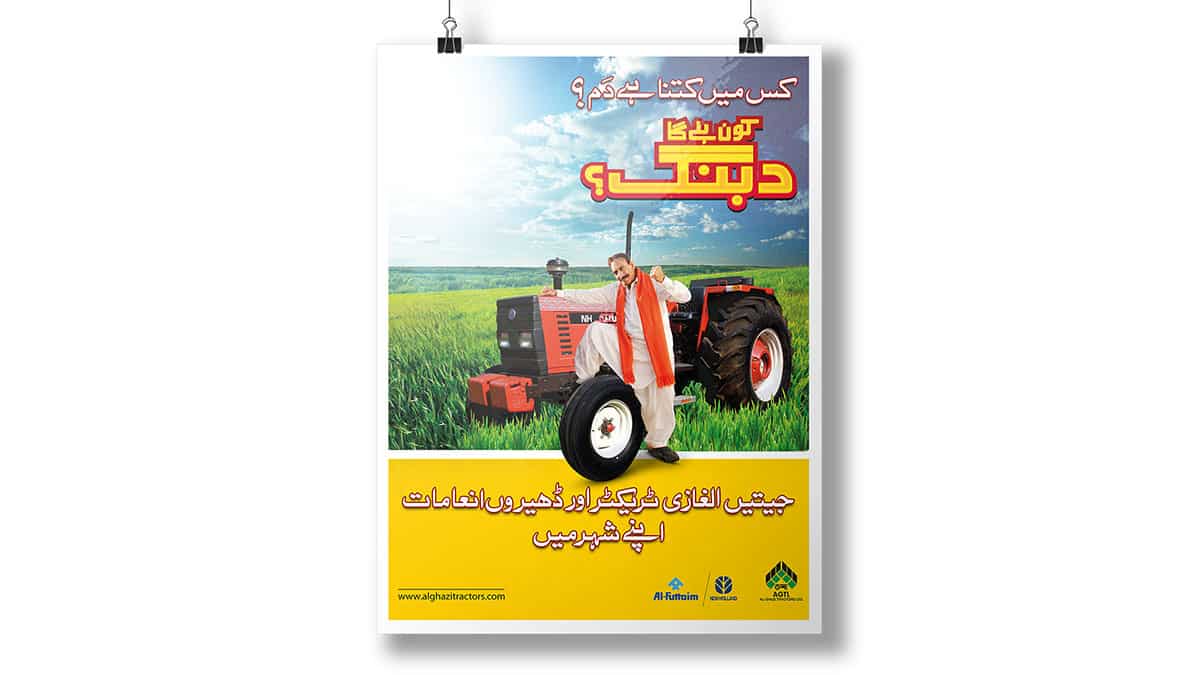 Kon Banay Ga Dabung Road Shows
Welcome & Briefing Session
Warm up Session
Khon Banay Ga Dabung Quiz Competition
Prize Distributions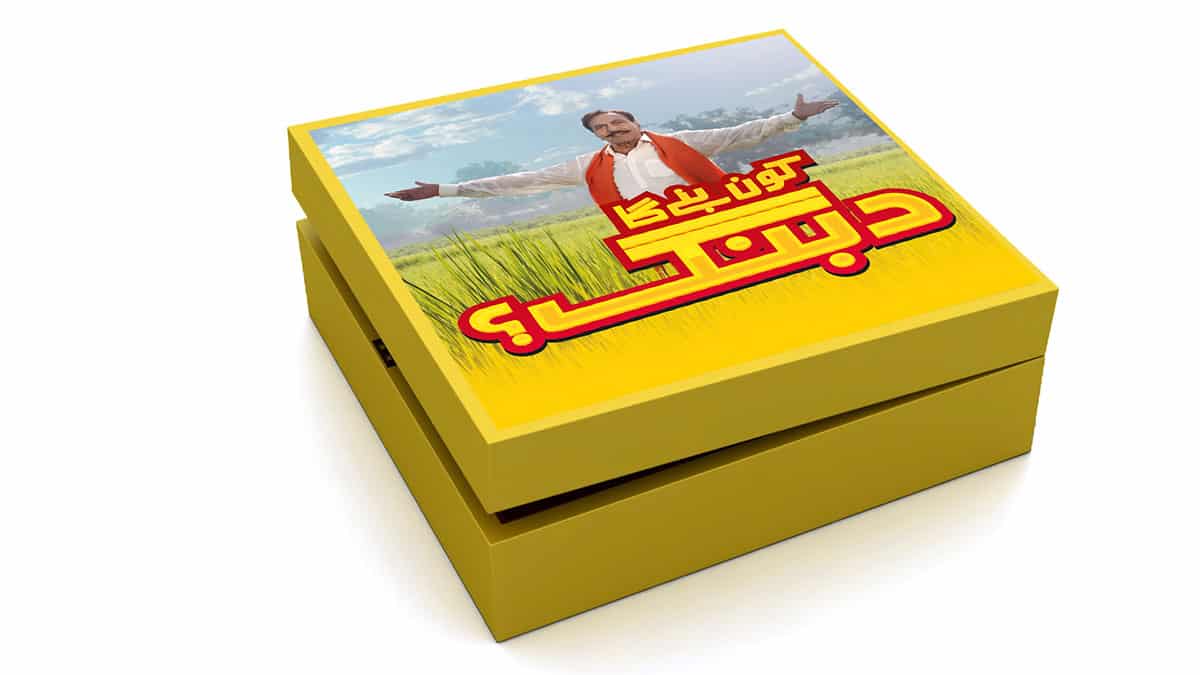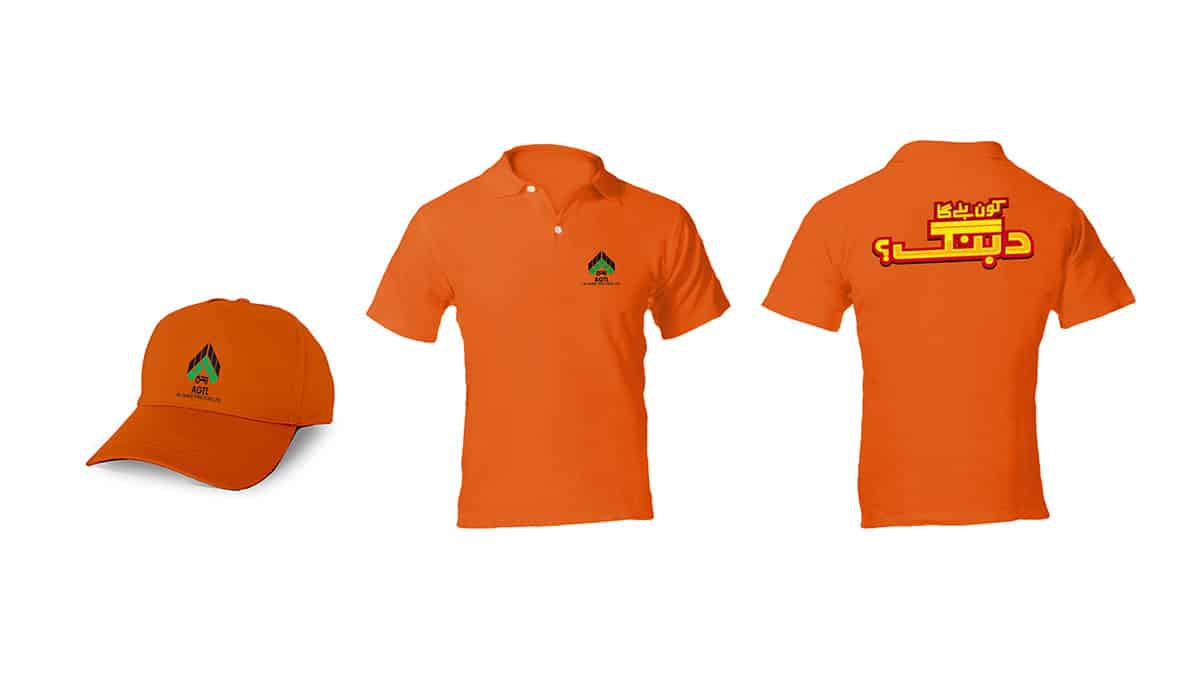 Experiential Activation Impact
Al-Ghazi Tractors Limited (AGTL) reported earnings of Rs 718 million in the second quarter that ended on June 30, up 53% compared to Rs 674 million in the same period last year.
The company recorded sales of Rs 5.6 billion, up by 18% from Rs 4.55 billion in the 2nd quarter.
The company has a technical collaboration with CNHI – Case New Holland to manufacturing Holland (Fiat) tractors in Pakistan. Al- Ghazi sold 6951 units, up 67% during the second quarter as compared to 5907 units in the same period last year.
Top line surged by 24% YoY during Q2CY18 on the back of 18% YoY volumetric growth in tractor sales.
Along with the 2nd quarter result, half year result was also announced where the company reported a profit of Rs 1.8 billion, up by 13.21% from Rs 1.59 billion in the same period last year.