Digital
Digital Experiential Journey
Harlig Yogurt
Nature's Symphony: Crafting Creamy & Fruity Greek Yogurt
Härlig introduces its luxurious range of Greek yogurt, perfectly blended with luscious fruit chunks. This product is a harmonious marriage of creamy, rich Greek yogurt and the natural sweetness of fresh fruits. It's not just yogurt; it's an experience of pure indulgence, Härlig style.

Brand Purpose
Brand Strategy & Positioning
Brand Portfolio & Architecture
Brand Identity & Imagery
Brand Style Guidelines
Logo Creation
Packaging & Label
Messaging & Tone-of-Voice
Brand Concepts & Communications
Brand Tagline
Experiential Designs
Website & E-commerce
Retail Branding & Merchandise
OOH – Signage & Billboard
Marketing Collateral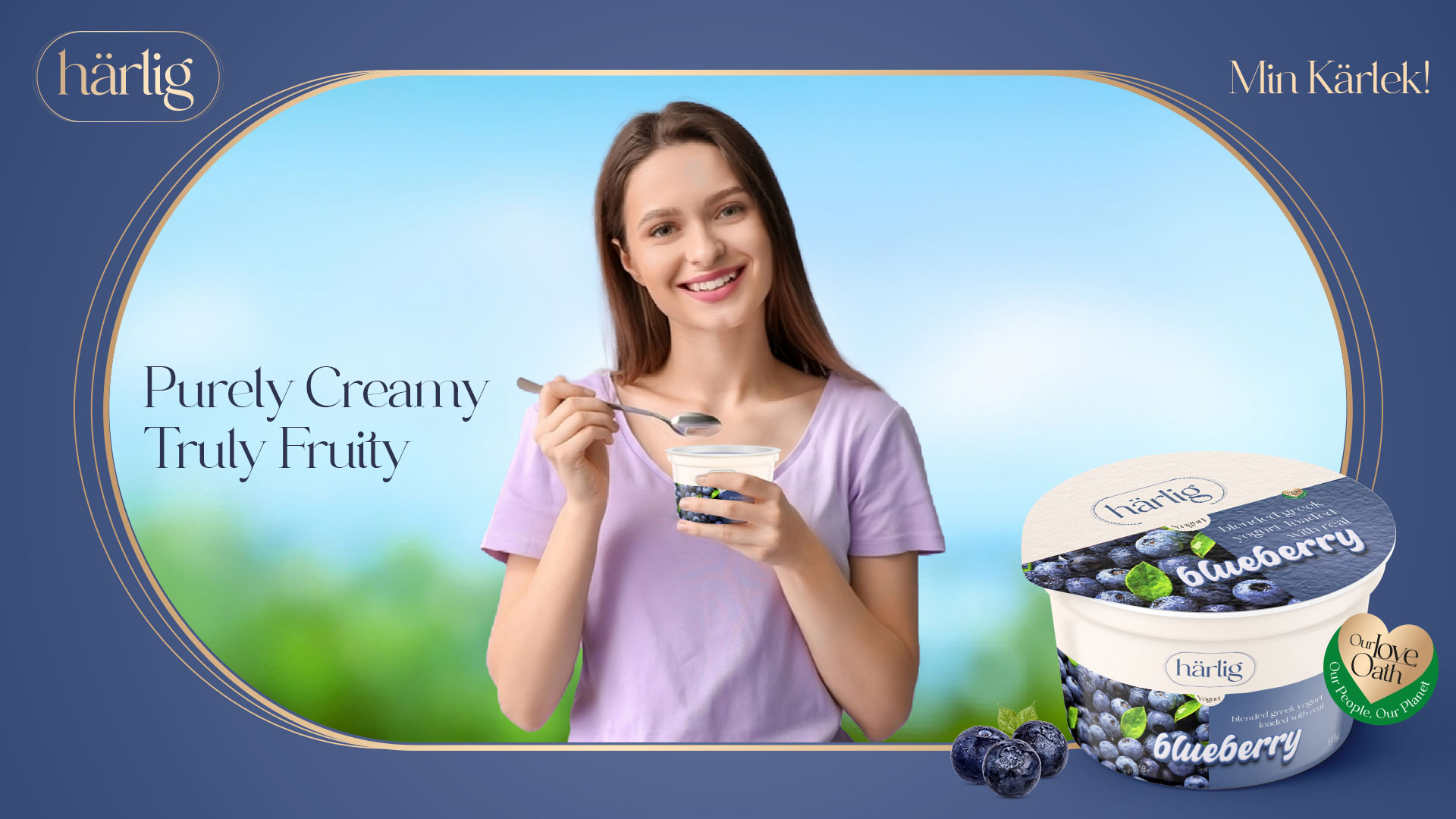 Brand Philosophy
Härlig's Blended Greek Yogurt is more than just a dairy product; it's an experience. Every spoonful promises a burst of freshness, a testament to Härlig's commitment to quality and taste.

Brand Naming
The name "Härlig" resonates with purity and indulgence. With the introduction of Blended Greek Yogurt, Härlig continues its tradition of offering products that are a perfect blend of taste and quality.

Brand Identity Development
The brand identity for Härlig's Blended Greek Yogurt seamlessly marries minimalism with clarity, ensuring the product's premium quality and freshness are unmistakably conveyed.

Design Philosophy
True to Härlig's brand identity, the packaging design for Härlig's Greek Yogurt seamlessly marries minimalism with clarity, ensuring the product's premium quality and freshness are unmistakably conveyed.

Visual Storytelling Design Elements
This refined strip runs gracefully across the top of the packaging.
It serves as a pristine backdrop for the "Härlig" logo, radiating sophistication.
The color of the "Härlig" logo dynamically changes to mirror the flavor's color code, creating a harmonious visual connection.
The clean, uncluttered space is a nod to Härlig's minimalist design philosophy.
Flavor Color Representation
The bottom section of the packaging is thoughtfully bifurcated.
One half showcases a solid color, indicative of the yogurt's flavor, ensuring intuitive flavor recognition.
The other half visually displays the luscious fresh fruits, such as bunches of strawberries, peaches, blueberries, cherries, etc., emphasizing the product's freshness and authenticity.
The flavor descriptor is elegantly presented in a contemporary lowercase font.
Positioned centrally on the packaging, this typography is accentuated in a pristine white color with a bold outline matching the flavor's color. This design choice not only enhances visibility but also aligns with Härlig's modern brand image.
The phrases "Blended Greek Yogurt" and "Loaded With Real" are strategically placed atop each flavor name on the solid color block.
This bold placement, combined with the visual of the fresh fruits, serves as a clear and enticing indicator of the genuine fruit content within.
This packaging concept encapsulates Härlig's commitment to purity, luxury, and authenticity, promising consumers an experience that's as delightful visually as it is in taste.
Brand Sustainability Approach: Harlig's Love Oath
"At Härlig, our love for the planet is as deep as our passion for yogurt. We are committed to sustainable practices, ensuring that every spoonful delights the senses and respects our environment.
Pure Loved Base: Dive into the pristine foundation of Grade A milk and cream that sets Härlig yogurt apart as a testament to love and quality.
Nature's Love Palette: Our commitment to nature is unwavering. We source the finest fruits, ensuring that our Greek yogurt's real taste and nutritional values are preserved. This dedication to authenticity guarantees a genuine burst of nature in every spoonful.
Sustainability Love Symphony: Our dedication extends beyond just sourcing the best ingredients. In collaboration with farmers, we provide modern agricultural techniques, ensuring the cultivation of the highest quality berries and fruits. This partnership guarantees fresh produce and fortifies our bond with the community. Every flavor of Härlig yogurt tells a story of joint effort, love, and a commitment to Mother Earth and our community."
Brand Essence
Härlig's Blended Greek Yogurt embodies the essence of pure indulgence. Every serving promises a delightful experience, setting Härlig apart in the realm of dairy products.

Brand Imagery
The brand imagery captures the freshness and authenticity of Härlig's Blended Greek Yogurt. Every visual is a testament to the brand's commitment to delivering a product that is "Purely Creamy, Truly Fruity."

Brand Tagline
"Purely Creamy, Truly Fruity" – This tagline encapsulates the dual essence of Härlig's Blended Greek Yogurt, promising a product that is both creamy and bursting with fruity flavors.

Web Design & E-commerce
Owl Branding Studio crafted a modern, user-centric website for Härlig, offering visitors an immersive digital experience that reflects the brand's commitment to quality and taste.

Brand Communications
Härlig's brand story for its Blended Greek Yogurt emphasizes its commitment to quality and authenticity. Through strategic branding initiatives, the narrative highlights the product's creamy texture and fruity undertones.